Palo Alto's MacArthur Park Restaurant Celebrates Veterans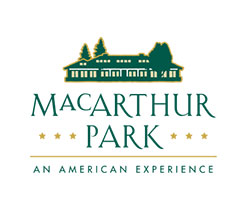 PALO ALTO, Calif. /PRNewswire/ — MacArthur Park proudly shares a long history with our country's armed services and they want to say "Thank You" to the men and women who have served. Veterans and their families (parties of up to six) will be treated to 50 percent off their check from November 2nd through November 22nd. In order to be eligible for the discounts Veterans must make reservations and show their military credentials.
The building in which MacArthur Park now operates was built in 1918 as a World War I YWCA Hostess House for visiting families of servicemen at Camp Fremont in Menlo Park.
Architect Julie Morgan of Hearst Castle fame was challenged with a budget of only $1,800 for this building; Ms. Morgan's approach combined artistic qualities with utilitarian needs. In what is still a gorgeous space with her "signature" of exposed, functional wood trusses, pergolas, double doors, balconies and fireplaces, the building was enjoyed by generations of servicemen and their families.
Click here to see entire article from PR Newswire